Invest in our services, invest in a better future.
Whether its flexible hourly care or live-in care, we are available 24/7.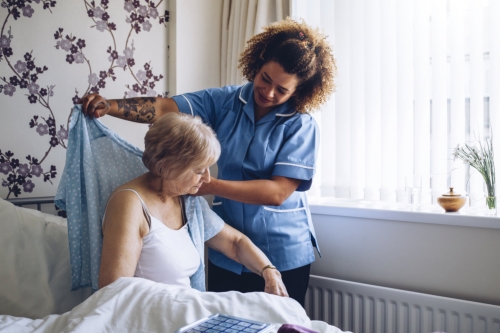 In order for you or your loved one to continue living at home, home care services may be necessary. Perhaps you or your loved one needs a caregiver agency or home health aide who can assist with housekeeping, hygiene, eating, and staying on top of errands. Angels of Light Home Care, LLC is the right senior care solution!
We understand that assisted living arrangements can be distressing and difficult for many seniors, and we feel that caring for these wonderful individuals in their own homes is a special calling. We also understand the trials that come with caring for an aging loved one, and we are here to assist. Whether your loved one needs help due to old age, you can count on us to deliver the maximum quality of care in the comfort of your home.
With an in-home assessment, our clients are given the opportunity to discuss their specific needs and wishes and ask any questions they might have. After learning and understanding the needs and capabilities that you or your loved one has, the home situation, and the level of family participation, we will make a customized plan of care. All services can be provided in your home, senior housing, hospital, or nursing home for as little as 3 hours up to 24/7 shifts or live-in care. The following is a list of our services:
Household chores such as laundry and dishwashing
Bathing, dressing, grooming, and incontinence
Nutritious meal preparation in accordance with dietary preferences
Mobility and range of motion exercises
Medication reminders and prescription pick-up
Companionship and emotional support
We also offer:
Don't' wait. Make a home care choice with assurance by learning more about our home care services. Angels of Light Home Care, LLC of Connecticut offers free, no-obligation consultations. Our knowledgeable care administrators can meet with you, your loved one, and any other family members involved with caregiving to answer inquiries about our caregiver hiring process, 24-hour care services, and customized care plans.